Build Your Own PHP Framework – 2nd Edition
July 2012
Want to know how to build your own framework, this book shows you how!
Available for purchase via www.phpframeworkbook.com.
South African Wine Tour – Stellenbosch
June 2012
During 2011 I travelled around the Stellenbosch region of the Western Cape. I visited lots of wineries during that trip and decided to write a short guide about the trip. I listed my favorite 5 wine estates, one a Brandy Distillery and a small Belgian Waffle Shop in a little town on the beach just south of Stellenbosch.
Now available on Amazon.com.
Learn HTML5 and JavaScript for iOS
May 2012
You have a great idea for a simple mobile web app. Or, you have a great idea for a complicated mobile web app. Either way, Learn HTML5 and JavaScript for iOS will help you build, fine-tune, and publish your app for iPhone, iPad, or iPod touch.
Now available on Amazon.com.
Robotics Programming 101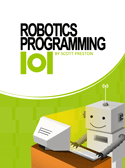 May 2011
Robotics Programming 101 shows you how to plan your first robotics program, pick a brain, language and operating system for your first robot. This book is also filled with programming examples in PBASIC, Arduino, Java and JRuby. Some of these examples include: serial communication, servo and microcontroller programs, sensors like sonar and a digital compass, text-to-speech, speech-recognition, computer-vision, differential drives, robot arms, basic navigation, and much more!
Buy Now at www.roboticsprogramming101.com.
The Definitive Guide to Building Java Robots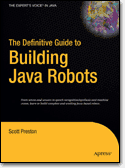 November 2005
This was my first book on robotics and using the Java Language to interface between sensors, motors and microcontrollers with a PC capable of doing speech and vision. If you want to learn more detail about Robotics Programming, then you need to get this book!
Now available on Amazon.com.